Mitch Wallis, 27 – Mental health advocate & founder of the 'Heart on My Sleeve' Movement living with mental illness, SYDNEY
Mitch, 27, Sydney, has battled multiple mental health demons since childhood.  
At nine years of age, Mitch was diagnosed with OCD. A decade later, he received yet another diagnosis of severe anxiety, combined with PTSD and clinical depression. 
Last year, aged 26, having plunged even deeper into mental illness, Mitch was confronted by two starkly different life choices – to seek help, or end his life. Fortunately, Mitch chose the former option, and after accessing professional help, kick-started his journey toward recovery.
In May, 2017, Mitch launched the 'Heart on My Sleeve' Movement to encourage other Gen Y's battling mental illness, to share their personal stories via social media, and by so doing, build a human support network to help each other get through every day. The Heart on My Sleeve Movement reached 1 million people within less than a week, featuring on Channel 10's The Project, Triple J, the Sydney Morning Herald, and in many other major news media outlets Australia-wide. Hundreds, if not thousands of people across the country now turn to this platform to relay their personal stories and battles with mental health.
This is Mitch's story.
Mitch's outside life had always been "normal", in fact, even better than normal.
The 27 year old Australian was born and raised in the beautiful suburb of Mosman, Sydney. He achieved a UAI (Universities Admission Index) of 97.3, and completed a Bachelor of Commerce at Sydney Uni, where he received a scholarship for academic performance. During this time, he joined the technology industry, serving as Microsoft's youngest intern. He spent seven years with the company, quickly climbing the ranks to Global Product Marketing Manager – leading some of the company's biggest launches in the hardware space, and earning national marketing awards. He also ran a DJ business on the side, played drums in a band, qualified as a certified yoga teacher, and completed the New York marathon last November. His body was in good shape, but his mind was not.
"Mental health challenges do not discriminate. I had the most privileged upbringing and ideal life anyone could ask for, but I was wrestling inner demons that completely dwarfed the real world," said Mitch.
Mitch likens clinical depression to being caught in a vacuum where there are no perceivable options for escape.
"Clinical depression is like a compounding illness that you feel you have no ability to overcome. You see the world through a fog that only gets worse, and worse. Then you develop feelings of shame, which propel you even further into the downward spiral that you fear, further compounding your depression. You only seek help to break the cycle when the depression has become impossible to live with. Even then, it's no easy journey climbing out of the hole."
Mitch vividly recollects his obsessive nature during childhood. He would switch lights on and off, re-fold clothes, and say the word "God" out loud, for hours on end, fearing that if he didn't perform these behaviours, a family member could die, or that he was a bad person.
Concerned by her son's increasingly obsessive behaviour, his mother sought professional help. Mitch was subsequently diagnosed with anxiety disorder, but chose to decline treatment, for fear he would be labelled crazy.
"The fear of being called crazy was scarier than the illness itself. I refused treatment following my initial diagnosis with anxiety disorder, because I didn't want to think something was wrong with me. I didn't want to accept that I was so different to everyone else.
"That's where the stigma comes in, because even at the age of nine, when I couldn't fully comprehend mental illness, I thought it was a bad thing. Only to realise later in life that there is nothing different about someone with 'mental illness'. It is a shared human experience, with varying degrees of intensity. We should all be able to see a piece of our self in anyone who is suffering, regardless of their diagnosis," Mitch said.
For the ensuing decade, Mitch continued to combat feelings of chronic obsession and anxiety, up until 19 years of age, when he was re-diagnosed with the disorder, as well as clinical depression.
Yet, once again, Mitch declined medical treatment, in favour of "band-aid solutions" to help mask his pain.
"It was then that I stopped trying to work it out, and, instead, just tried to get on with it. This wasn't an act of bravery, but rather, an act of self-preservation. I lost faith in the hope that I could be helped.
"I tried everything from distraction techniques, to yoga and meditation. Each of these things are good coping mechanisms, but they don't replace the real work, which is a journey toward a deep acceptance of who you are at the core. The ability to feel worthy of love, even when you're broken, allows the real wound to heal. That's the hardest part," said Mitch.
"In 2016, the band-aid snapped, and I was forced to seek professional help."
At the time, Mitch was living in Seattle, USA, juggling a demanding IT global product manager role with his Master's Degree in Psychology at Colombia University, and doing all that he could to keep himself afloat.
As his stress compounded, Mitch spiralled into his deepest ever episodes of anxiety and OCD, which thrust him recklessly into clinical depression, and tragically, suicide contemplation.
In dire straits, Mitch finally chose to reach out for help, and after meeting with seven different clinicians, finally settled on a treatment regime that worked for him.
"I had to face my worst fears – someone telling me I was crazy or hopeless. But as it turned out, none of that matters when you have the right people around you.                                                                                                                                                                                                                                                   
"Only last year, did someone finally explain to me that I was living with more things than I was consciously aware of – including trauma, which often goes undiagnosed or overlooked. That's the thing about mental health, no two people are the same, and you need to trust those around you, to help untangle the knots and make sense of the story," Mitch said.
"They recommended a good treatment called 'exposure and response prevention', alongside some traditional CBT and Gestalt therapy, which has allowed me to re-claim my life.
"Ultimately, it was my final surrender to accessing help. The subsequent relationships that formed during the process of people holding me afloat, taught me how to swim to shore and come home," said Mitch.
"At the same time, I started antidepressant medication, and opened up, and secured support from my family and friends. These three pillars laid a much sturdier [support] foundation for me."                                                                                                                                                                        
Mitch is now embarking on his journey toward recovery.
"I've accessed multiple antidepressant medications. The first antidepressant had terrible side-effects, which almost scared me off medication altogether. I don't think I would have returned to antidepressant medication without the support from my very trusted therapist, who helped me identify the best treatment for me," Mitch said.
Mitch perceives recovery as "an ongoing process", citing "I always wanted to be 'cured', but I now know that's not the end goal. Feeling connected to others, and being functional in day-to-day life, is where my head is at now. Being authentic and real about what I'm experiencing ironically, takes away most of the pain. It's the judgment or resistance around what we're going through, which often does the most damage.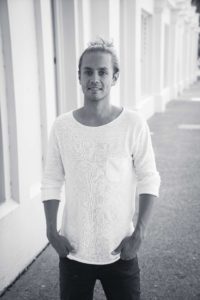 "Nowadays, I'm continuing my antidepressant medication, seeing three different psychologists, and sharing my story, to remain honest, and not hide from who I am," said Mitch.
Mitch is supporting the Australian Genetics of Depression Study, a ground-breaking international collaboration exploring the genetic risk factors associated with clinical depression, and how genes influence one's response to treatment.
QIMR Berghofer Medical Research Institute is leading the Australian arm of the research, and Mitch genuinely hopes by lending a hand, he will allow experts to unravel more answers to help combat the illness.
"I absolutely believe genetics play a role in mental illness. I'm a living example of it. I have a strong family history of clinical depression, agoraphobia, and other forms of mental illness. This gene pool, combined with environmental factors, such as the stress from my previous job, my parents' divorce when I was very young, and my subsequent struggle to build a solid relationship with my father early on, caused feelings of anxiety, which resulted in mental illness.
"I don't, however, think genes alone result in mental illness, as you often hear of families with a history of bipolar disorder, where only one of the two children experience mental illness," Mitch said.
"In today's social media-saturated society, in which we have so much pressure to be more than what we are, to everyone, that pressure can often combine with genes, to trigger mental illness.                                                                                                                                                                          
"Genetic research, such as the Australian Genetics of Depression Study, is 100 per cent critical to stopping the epidemic of mental illness," said Mitch.
"Mental illness is part of the human condition, and we're all on the mental health spectrum, just in different forms and duration.
"If this study can identify which genes are involved in clinical depression, and uncover ways to improve treatments, and ultimately beat the mental illness, then that's what we need to focus on," Mitch said.