Megan, 29 – Registered nurse, midwife & science fiction fan living with clinical depression, BRISBANE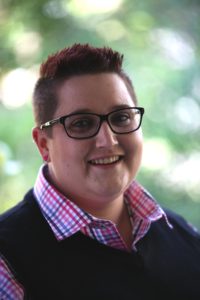 After completing university and commencing full-time work as a registered nurse in 2008, Megan, then aged 20, Brisbane was finding it hard to cope with her professional career.   
After seeking advice from her GP, Megan was diagnosed with clinical depression, and prescribed antidepressant medication.
Over time, Megan, who has a strong family history of clinical depression, trialled multiple antidepressant medications, to no avail.  
On several occasions, with her emotional state in decline, Megan tried to take her own life through self-harm and overdose. Fortunately, each attempt proved unsuccessful – something for which she is extremely thankful today.  
Nowadays she is rebuilding her life, aided by the unwavering love and support from her team of doctors, family and partner, to whom she is engaged.
This is Megan's story.
"I liken clinical depression to diabetes.
"It is a chemical and hormonal imbalance. While some people living with depression may require medication, others can manage the illness through lifestyle changes," said Megan.
According to Megan, drawing a correlation with a relatable disease state allows people to open up about depression, and to better understand it.
"Clinical depression is still stigmatised. So by likening it to something as common as diabetes, I think people tend to understand it better, and are more willing to open up."
Upon reflection, Megan maintains she was most likely living with clinical depression during high school, from around the age of 15. But as the daughter of the school principal, and going through hormonal changes, Megan brushed off any negative emotions as simply "a phase."
However, after completing her Bachelor of Nursing degree, and commencing full-time work, Megan began to battle mood changes, a host of negative emotions and extreme lethargy.
Around the same time, Megan began to recall memories of sexual abuse she had experienced as a child.
As these memories combined with her ailing health continued to cascade, Megan chose to seek help from her GP. She was subsequently diagnosed with clinical depression in mid-2008.
Over the ensuing few months, Megan trialled multiple different medications to no avail. As her health wellbeing continued to take a dive, and causing further trauma, Megan made her first attempt to take her own life in November 2008, by overdosing on medication.
"After my first attempt at suicide, I was in a very dark place. Over the course of the following year, I saw many different GPs. I finally met with a psychiatrist in mid-2009 and then undertook a few in-patient hospital programs, which marked a turning point for me.
"The psychiatrist I started to see back then was great. I continue to see him today," Megan said.
However, by the end of 2009, Megan had plunged back into clinical depression, and had tried to take her life on two more occasions. The final attempt was so damaging, that she wound up in the intensive care unit (ICU) of a major Brisbane hospital.
"I was in a very bad state following that suicide attempt, and needed breathing support in ICU. But I did survive, and for that, I am very thankful," said Megan.
Leaving ICU, Megan continued her treatment, visiting a psychologist, psychiatrist and GP, all of whom continue to aid her understanding of clinical depression, and need for treatment.
"I have a great team of doctors – my GP, psychiatrist and psychologist. I call them my A-Team," Megan said.
Given the trust Megan has built up with her A-team of doctors, she has since signed a release form permitting them to communicate on her behalf, about her mental health, which has helped her substantially.
She also maintains the use of electroconvulsive therapy (ECT) as a form of treatment has helped her to rebuild her life.
In early 2011, after maintaining stability, Megan chose to return to university to study midwifery. Several years after the completion of her midwifery degree, Megan continued to effectively manage her clinical depression, up until a major relationship break-up, after which she started to go down-hill. On this occasion however, Megan recognised her symptoms of clinical depression, and spoke to her A-team of doctors, who worked to keep her "on track."
"After my break up, I went downhill again. But my treating team re-worked my medication, and although I went through a few episodes of self-harm, which was disappointing, I was able to mount a faster recovery.
In combination with medication, Megan utilised treatment plans, including cognitive behavioural therapy, Dialectical Behaviour Therapy, and Acceptance and Commitment Training Therapy, to mount her recovery from clinical depression.
"My A-Team really helped get me back on track, and in September 2014, I met my new, beautiful partner, to whom I am engaged today," said Megan.
Ever since, Megan has continued on her road to recovery. Nowadays, although she may experience down days, she is nonetheless provided unwavering support from her A-team, her loving family and her new partner.
"I have a very supportive and loving family. I see my psychiatrist and my psychologist every four to six weeks, and my GP every fortnight.
"For me, coming out as gay has also aided my recovery process. Growing up, I never even considered I was gay, because it wasn't an option for me," Megan said.
Megan is participating in the Australian Genetics of Depression study – a ground-breaking international collaboration exploring the genetic risk factors associated with depression, and how genes influence one's response to treatment. QIMR Berghofer Medical Research Institute is leading the Australian arm of the research, and Megan genuinely hopes her contribution will allow experts to unravel more answers to help combat depression.
"I have a strong family history of clinical depression. Both my mum's and dad's families have members who have lived with clinical depression. My mum's mother, nan, struggled with clinical depression for many years, and my father's aunt had post-natal psychosis, after which, she struggled with clinical depression, even wrote a book about it!
"A few of my distant cousins on my dad's side of the family have committed suicide due to clinical depression, but his side of the family don't really like to talk about it," said Megan.
"I am really intrigued by the Australian Genetics of Depression study. I personally believe depression is a combination of genetics, biochemistry and your upbringing.
"The potential to minimise the length of time for a person to access an effective treatment regimen, will reduce so much trauma for those affected by clinical depression. If this study can help better tailor medication to those affected, or at risk of clinical depression, it will really reduce the trauma that comes with changing medications," Megan said.
Watch Megan's story here: