Full-time forensic science student and musician,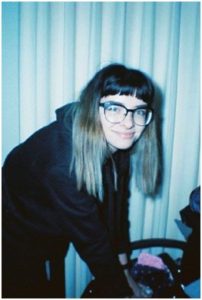 Kayla, 19, Melbourne was diagnosed with depression at 14 years of age following a medical issue that significantly compromised her health and wellbeing.
The illness took a great toll on Kayla's daily life, affecting her mood, preventing her from completing her school work, and rendering her unable to secure a part-time job to support her studies.
Kayla lived with the debilitating effects of depression for six months before seeking medical help. Now, with help from her counsellor and GP, Kayla has a medication and management plan that allows her to effectively manage her depression.
Kayla is participating in the Australian Genetics of Depression Study in the hope that it could shed light into possible new and improved ways of managing and treating depression. She hopes the insights gained from the study will not advance our knowledge of depression, but may also one day help prevent any of her future children from developing the illness that has affected generations of women in her family.
This is Kayla's story.
Kayla first noticed signs of depression at the age of 14 during her final years of high school. At the time, she had just survived a traumatic medical experience. Little did she know however, that she would develop an illness that would compromise her life.
"With depression, I feel constantly mellow, and have no motivation to get up and do even the smallest things.
"I was in high school when it first hit me. I experienced a traumatic medical event, and it magnified even minute aspect of my life," said Kayla.
"I felt lonely, even when people were around. It felt like I couldn't speak to, or rely on anyone to cover my back. Depression just makes you feel very small, like a tiny person in a huge room."
Kayla battled on with depression, but it took a great toll on her life.
"Before depression, I was very social – an 'in with the crowd' type of person. Afterwards however, I was much quieter and more introverted.
"The illness not only affected me socially. It also affected my working life. I couldn't get any part-time jobs. Everything was just too stressful to cope with. It was several years before I managed to get a casual part-time job," Kayla said.
It took six months before Kayla sought professional help for her illness. Her mother, who had also lived with depression, noticed her mood and apparent change in personality, and took her daughter to see the family GP.
"My parents realised that I needed to do something to address my health.
"I first saw my GP, and then I saw the same counsellor that my mother had seen," said Kayla.
Kayla started regular counselling and returned to her GP for complimentary anti-depressive medication that helped to restore her mental balance for the long-term.
She now studies forensic science full-time and finds the time to play bass guitar and sing on the side. One day she hopes to work with the police force in crime forensics.
"We worked on a plan that helped improve my productivity in daily life-related activities and my study.
"Now I have lots of structure in my life. There's no confusion or room for me to get worked up about anything.
That organisation has helped me a lot, and I can go about my day now and get on with my work," Kayla said.
"Preventing bad thoughts is paramount. I guess I learned to focus on the positive things that I'm good at, and that helps stop any downward spiral in its tracks.
"I've briefly come off my medications every now and then, but found that I needed to get back on them. I'm on low dose medications, but I just need a bit of chemical help sometimes," said Kayla.
In retrospect, Kayla maintains depression has run throughout her mother's side of the family. And although their shared experience has been a source of support, Kayla is concerned that the illness could negatively impact her future family.
"I became very close to my family during my recovery period. They offered me the direct support that I needed.
"My mother battled depression and anxiety for half of her life. She had a lot of childhood trauma, and there are also addiction issues on her side of the family. I know my grandmother also turned to alcohol," Kayla said.
"I'm a little worried that one day, when I eventually have children, that depression may affect them too."
Kayla is participating in the Australian Genetics of Depression Study, a groundbreaking international collaboration exploring the genetic risk factors associated with depression, and how genes influence one's response to treatment. QIMR Berghofer Medical Research Institute is leading the Australian arm of the research study, and Kayla hopes her contribution will allow experts to unravel more answers to help combat depression.
"It's a hugely ambitious study, and no doubt a lot of people will choose to participate in it.
"The study may help not only me, but other people like me, who have lived with depression, and whose future children are at risk of developing the illness. That would be a very important outcome," Kayla said.
"As a scientist, I'm very supportive of these studies for future reference and research. Finding genetic markers is part of that, combined with strategies that can deal with depression before it becomes really serious.
"From my experience, I'd say there is a fairly high chance of depression having a genetic link. That would be my guess. Once this study is complete, I'll no longer have to guess!"
Join Kayla, and participate in the Australian Genetics of Depression Study today – http://www.geneticsofdepression.org.au/